Redux Consortium
Founded in 2013 by Joe Weil and Emily Vogel, Redux Consortium is a cooperative of mutually supportive publishing ventures. Each features a variety of publication models and visions, and together they share resources and talent to produce & promote high quality books with the goal of promoting diverse forms of poetry, art, & criticism.
Cat in the Sun Press
Editors: Joe Weil & Emily Vogel
Out of Many: Multiplicity And Divisions In America Today by Drs. Camille and Racquel Goodison Ph.D.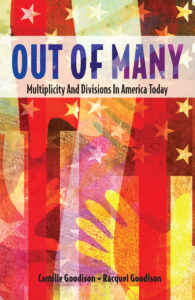 An anthology of new U.S. fiction and nonfiction, as well as transnational writing. A wide variety of fiction writers and essayists describe what it means to be American in a world of changing borders. A bright showcase of progressive literary style, personality and content. Contributors include Tope Folarin, Alia Yunis, Maurice Emerson Decaul, Alexandria Marzano-Lesnevich, Patricia Park, Sonny Singh, Aisha Sabatani Sloan, Zeeva Bukai, Courtney Zoffness, and others.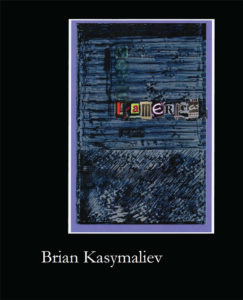 llustrated by the author, L'america places itself in the life of the world. Grim, intimate, and disturbing scenes of lives in a dangerous time. Using the style of dramatic monologue these works are voices in a spiritual, living struggle to renew the self and society. It is the story of how we make life through crisis and renewal, asserting that loss is our gift, and that saying our life is our surest truth.
Arks and Covenants: Essays and Aphorisms by Alfred Corn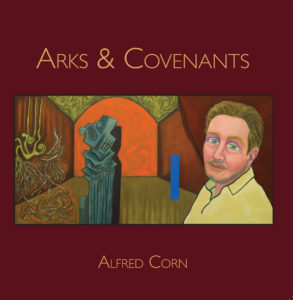 This third collection of essays by the poet and novelist Alfred Corn is wide-ranging in scope and unusual in its approach. Corn brings the insider's understanding of how meaning arises and develops in a literary work and provides close readings of authors as distinct as the author of Deuteronomy, Thom Gunn, Elizabeth Bishop, Cavafy and Wallace Stevens. The book also includes a series of aphorisms that make keenly ironic comments on moral and artistic issues. There are readers, too, who will enjoy the grace and clarity of Corn's prose style. An Afterword by the distinguished critic Robert Archambeau provides that same pleasure. This unusual edition comes with a cover portrait of Alfred Corn by artist Stephanie Rose, who uses details from it as design elements throughout the book.
Lyrical Grain, Doggerrel Chaff, Pedestrian Preoccupations by Dave Roskos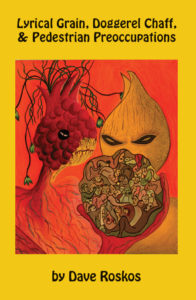 Lyrical Grain, Doggerel Chaff, & Pedestrian Preoccupations will remind you that everything — waste paper emerging from melting snow in a lot, the memory of midnights in bus shelters at twenty below, tangled skeins of work places that read like a manual on how to survive without really suffocating, spectacles of solidarity with those who have nothing to give but themselves — is, by far and away, worth our time and reflection. Accompany Roskos to, for instance, the Laundromat where on this particular occasion successive buffers of bad luck pinball him through so many twists and turns we almost lose sight of the equanimity of the human spirit and the humor that often informs moments of loss. Hunch down next to him in the shadow of the nacreous wall as he pulls the crushed pack from his coat and regards it with what amounts to a curious mixture of distaste and forbearance before looking you straight in the eye and asking the question he's asked so many times it's taken on air of guarded expectance, taps once, twice, allows your own hand to make the next move.
— Tom Kryss
Whale of Desire by Micah Towery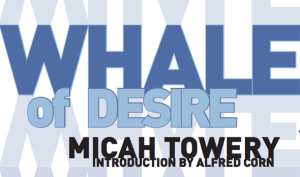 Micah Towery's poems are little miracles of lyric intelligence pitched against a skeptic's need for faith: faith in God, faith in other people, faith in love, and faith that daily life means more than its repetitions and its downward spiral toward death. His devotion to the clear expression of such mixed emotions is reflected in how these poems are by turns satiric, tender, self-deprecating, and vulnerable. And as if to match this wide range of tone, his idiom is among the most varied and surprising of any writer of his generation: he moves from high style to plain style with the assurance of O'Hara and Bishop at their best. I greatly admire the integrity of feeling in these poems, their sophistication, and their devotion to subjects that are large and important and deeply felt.
—Tom Sleigh, winner of the Kingsley Tufts Poetry Award
See the poet read from this work.
Reviews of the book & Interviews
REVIEW: "Poetry of Understanding" by Shazia Hafiz Ramji from Vivascene Magazine
REVIEW: from Fogged Clarity
REVIEW: by Levi Rubeck
INTERVIEW: by Michael T. Young on The Inner Music
INTERVIEW: from Zouch Magazine for National Poetry Month
The Girls in Chartreuse Jackets by Maria Mazziotti Gillan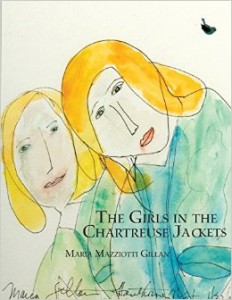 Watching Gillan's artistic endeavors, over the years, I should have been prepared for this new aspect, but I was unaware of her work on canvas—delicate, highly imagined, yet able to sustain a dialogue with her poetry. It doesn't matter what an artist's intention is if the delivery doesn't modify our view of the world, or touch our fiber. Gillan's capabilities expand, giving us the desires and whims of an American Humanist with her gift, "Behold I make things new."
— Grace Cavalieri, Washington Independent Review of Books
Reviews & Publicity
From The North American Review
by Grace Cavalieri, Washington Independent Review of Books
2014 Festival of Women Writers in Hobart, NY
Midnight Elegies by Ian Colbert (Author), Steve Liu (Photographer), Nick Warner (Photographer), Maile Colbert (Contributor)
———————————————————-
Editors: Sharon Zetter & Lucas Rivera
Without Repair by Colby Gillette
IN PRODUCTION